In the midst of civil war, mass murders, and famine, families all over the world are forced to leave their homeland every day. Abdulkadir and Mnoza Muya are put into this reality. We know that refugees come onto American soil all the time, but it's not all happiness and joy once they get here. This is the story of the Muya family striving to find normality in refuge.
The Muya family arrived to the United States in September of 2016. After 12 years of living with 350,000 other Somalian refugees in Kenya, the Muya's gained refugee status in America. They brought one outfit per person and a small bag full of valuables.
Alice Bolanos and Mnoza pack seven bags full of clothes for the family of eight. The family hasn't experienced a cold winter in over a decade. Finding the clothes to survive through it is crucial.
Mnoza was raised a farmer. She didn't go to school growing up in Somalia and, consequently, never learned the alphabet. Eugenia Wittick has weekly lessons with Mnoza to teach her the basics. Here she is learning the alphabet while breastfeeding her youngest child, Muhammad (also called Mudi).
Abdulkadir was raised in school. He knows some Italian and Arabic, but now has to learn English in order to get a job and survive in America.
The Muya family of eight spends their days packed inside their three bedroom apartment. The first months of settling were relatively easy for the family. They were excited to be out of tents and in a house. "We're comfortable, but miss home. I didn't want to leave my home, my food, my friends, but we had to leave for my family," said Abdulkadir.
Abdulkadir waits for the bus with trash bags full of clothing for the family. Figuring out the bus schedule is an ongoing problem as he spends up to an hour trying to get a ride. He'll wait for over an hour and nothing will show up. "No bus. There is no bus. How do I work with no bus?" said Abdulkadir.
The Muya family starts to feel the weight of their situation. They have no idea when they'll be able to go home, to see their family again, to feel at peace.
Marcia Elliot, Alice Bolanos, and Felix Otieno translate paperwork to Abdulkadir and Omar. Omar and Abdulkadir will have to work to provide for their family. Being hired without proficient English is a difficult process, and the family needs income.
Abdulkadir has a daughter who lives in Minnesota. He calls her to figure out how to work, but unfortunately she doesn't have a lot of advice. Omar, Abdulkadir's oldest son, may have to move to Minnesota to work and provide for the family.
Parent-teacher day at Forest View Elementary School is interesting when the parents and teachers don't speak the same language. Celeste and Felix Otieno joined the Muya's to help translate for them. Asimani, their second youngest son, has been struggling to obey rules in the classroom. The transition has been tough for him.
Fartune, Asimani, and Ali get dropped off from school. They haven't found anybody who speaks Swahili, so making friends has been difficult.
The family rarely uses tables. After eating on the ground in Kenya for 12 years, they still prefer the floor.
Omar and Hemadi need transportation and can't get a car. They started working in a Durham Bicycle Co-Op to work for a their bicycle. After two months, they will both have a way to get around.
The Muya family can't live off welfare for long. They get cut off from most aid in December, unless they find income. Fartune holds tightly to a family portrait, with a painting brought over from Kenya in the background. Just because they're out of a hostile country, doesn't mean they're out of fear for the future. Many mysteries still exist, but more than anything, the family is wondering when they'll be able to go home.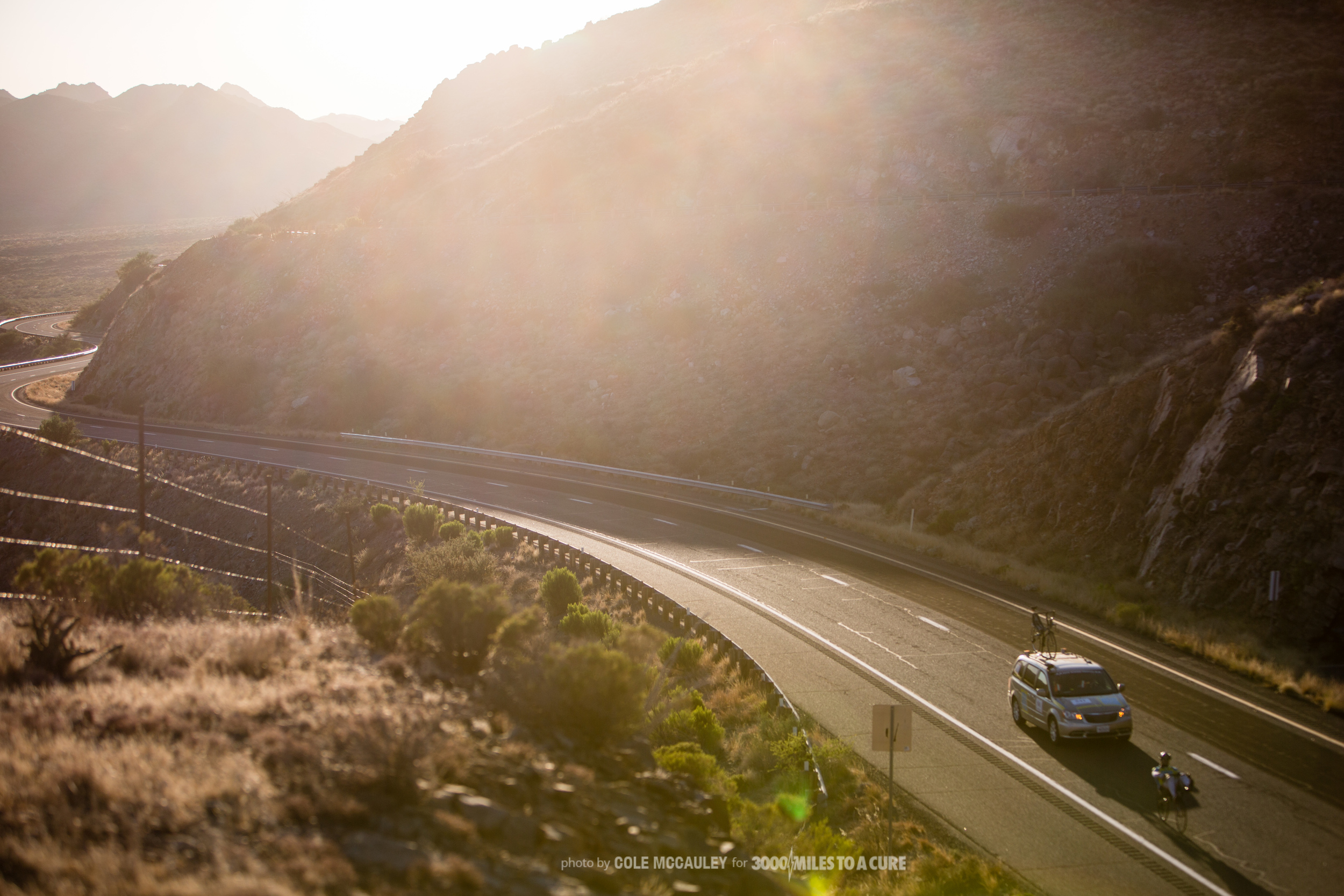 The Race Across America: a race that pushes even the best ultra-athletes past their limits. 3,000 miles in 12 days. A race where rest is a foreign concept and mental and physical pain become the normal. Rob DeCou decided to test his boundaries with this race, and partnered with 3,000 Miles to a Cure to do it for a good cause.
Rob DeCou is a follower of Christ, a husband to Kristin DeCou, a soon to be father, and the executive producer to Lux Virtual. He's been an ultra-athlete for most of his life. "When I was 16 I did aerobics in India for 50 hours straight to celebrate 50 years of their independence," said Rob. After a close friend of his from high school passed away from cancer, Rob decided to partner with 3,000 Miles to a Cure while racing across America. 3,000 Miles to a Cure is a nonprofit which raises money for brain cancer research through riders participating in the Race Across America.
Rob started off his trip with a lot of praying. During the course of the trip, people were constantly praying over him and alongside him.
"Approaching Oceanside, CA was kind of surreal. Smelling the ocean and uniting with my whole crew made me realize the closeness of the race," said Rob.
Rob endured all types of terrain through the trip. The heat of the deserts in Arizona, steep climbs through the Rockies in Colorado, and long stretches of humid flatlands through Missouri all demonstrated different challenges to Rob.
Kristin DeCou, Rob's wife, was a few months into her pregnancy with her first child. Rob and Kristin didn't have a name for their soon-to-be son, so they called him "Little Buddy" during the trip.
Jo Dee Ahmann, nicknamed "The Messenger", played the role of speaking God's word to Rob and constantly encourage him. Her daughter, Christina Ahmann Nevill, passed away from brain cancer. Christina is the reason Rob partnered with 3,000 Miles to a Cure during the race. Shortly before this frame, Rob fell off his bike and gained some intense road rash on his leg.
Despite falling on hot roads in Arizona and filling his jersey with ice to get through the heat, Rob kept riding.
After surviving 100 degree heat in the desert, Rob got to jump into a cold pool to cool off. I asked, "Rob, show me how you feel right now." Then he looked over to me with this giant smile.
Getting through this race would've been impossible without Rob's support grew. Day and night they worked hard to uplift Rob, care for him and push him.
"Night's are hard and that's when the exhaustion really sets in," said Rob. The Race Across America involves pedaling through the day and the night. There's a bit of chaos in the nighttime. The follow vehicles blast music to wake Rob up, feed him loads of caffeine, and push him past his limits to keep him going.
The night crew has to go down for naps whenever they get the chance. Tyler Clemens and Kyle Downs took a quick snooze in the parking lot while Rob went down for a nap in the van.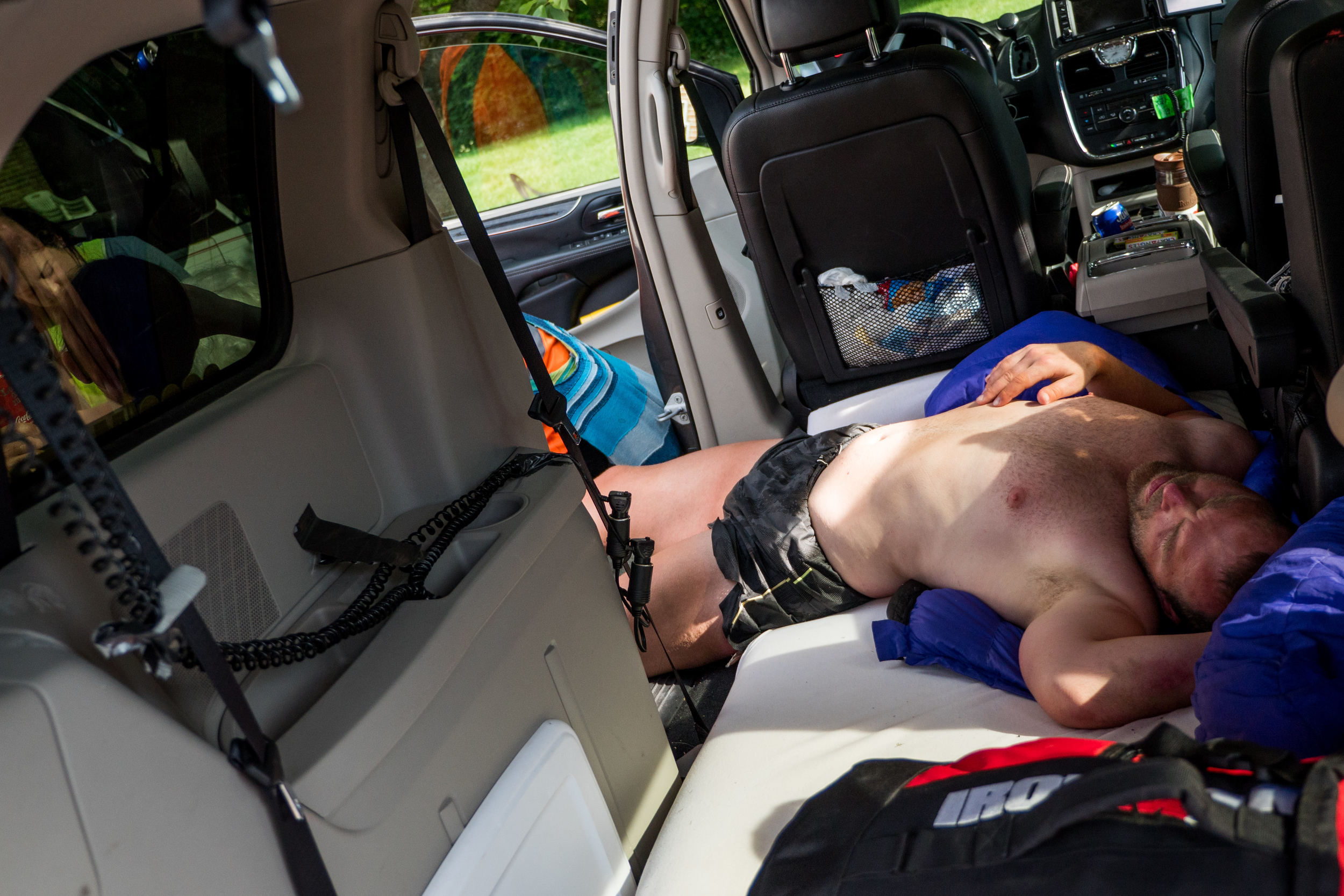 "You gotta put me down. I need to get a couple hours in," Rob would say while dozing off on the bicycle. Almost every time he tried to sleep for a few hours, Rob would wake up after 45 minutes saying, "I feel like I've slept eight hours. It's time to get back on the road."
"Hey Jo Dee can you pray for me?" was a common request from Rob. Jo Dee would run alongside Rob whenever she could - encourging and praying for him.
With all the energy Rob was burning while cycling, he had to eat, a lot. Rob's crew had him throwing down protein shakes, sandwiches, energy bars, whatever could keep him full during the race. Rob loves donuts and ice cream.
With Rob cycling nonstop, the follow vehicles had to constantly work to ensure Rob was good to go. They had a van following and keeping Rob moving 24/7 for 12 days straight.
Chris Clemens, an ultra-athlete himself, knew what Rob needed when he started to fall behind. Instead of nurturing Rob and feeling sorry when Rob was tired, Chris pushed him hard so Rob would keep moving.
Kristin DeCou, often referring to Rob as "honey," nurtured and cared for Rob when he was down. Through the valleys and on mountaintops, their relationship was steadfast grew over the course of the race.
Rob and Jamaica Lambie had a love/hate relationship throughout the race. "Man I hate talking to that guy," jokes Rob about Jamaica. Jamaica was one of the tougher ones who pushed Rob further than even Rob knew he could be pushed.
"I went into this with the entire Lord of the Rings audio books on my phone, tons of podcasts and music, and didn't listen to any of it. What I thought was going to be a pretty lonely trip turned into a 12-day traveling party with my best friends," said Rob.
Madisyn Heistand, Rob's niece, was key to getting Rob through. "She's our rock on this trip," said Rob. Madisyn won the award for the "youngest crew member" for the Race Across America in 2016. At this point in the trip, Rob was hours from the finish line and didn't know if he could make it in time. A lot of people were starting to get worried. Madisyn comforted Rob as he grew tired and weary.
Even with the little bit of doubt in the air, Rob was just miles away from the finish line with hours to spare. 12 days of nonstop riding had paid off. Rob was going to cross the finish line.
Congratulations Rob. You turned the hardest cycling race in the world into a 12-day traveling party, and cross the finish line in time. Everyone was blessed to watch you grow on your journey and help you get through it. We can't wait to support you on your next ultra-event.